Bird Control in Vancouver BC
Westside Pest Control Ltd. specializes in bird control for residential homes and commercial and industrial businesses in and around Vancouver, B.C. Our technicians have been trained and certified by Bird Barrier and Bird-B-Gone. They are also trained in fall protection and a variety of boom and scissor lifts.
Another Happy Customer:
"Westside installed bird wire and spikes on our downtown balconies several years ago to deter both pigeons and sea gulls to great effect. Their technician was prompt, efficient and pleasant and we have been extremely happy with the results. Within the last 12 months we had a ductless AC system installed in our suite including a compressor unit on one of the balconies, which provided the pigeons with a new surface to light upon. So we called Westside to come out and install bird spikes on the horizontal surface and voila – no more pigeons! Westside responded promptly and with great efficiency and we couldn't be happier. I have no hestitation recommending them"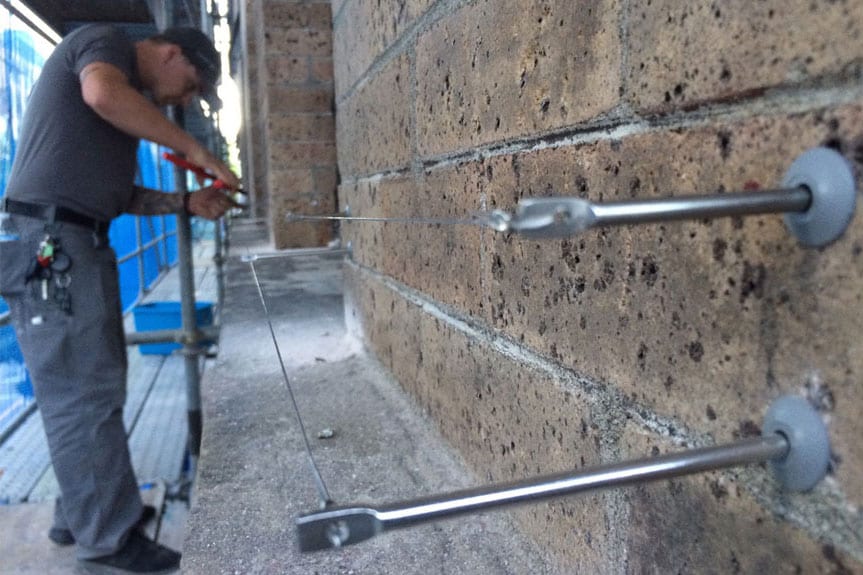 Low profile bird control in Vancouver
You don't have to compromise the aesthetics of your structure to gain a practical solution to your bird problem. Westside Pest Control LTD offers a variety of low profile bird control solutions including bird wire and electric track in addition to traditional methods such as bird spike and bird netting. Westside Pest Control is Vancouver's only bird control company that uses a fully stainless steel spike with a 15 year guarantee. Call us today for a free on-site consultation and quote. We are Vancouver's trusted company to eliminate your problem pigeons and other birds.
Pictured above: Bird wire installation on a Vancouver Heritage Building. Westside was challenged with the task of installing bird wire over several wide sections of ledges without any product coming in contact with the ledge itself. The result of our bird wire install: Successful pigeon removal and the old ledges were not compromised physically or aesthetically.
Pigeons
Pigeons are the usual nuisance bird in the Vancouver area. Old prevention methods such as trapping and shooting though legal, are not a long term solution to nuisance pigeons. Pigeon control is best accomplished by permanently excluding them from their roosting or nesting area.
5 balconies were getting absolutely assaulted by pigeons. Our technicians cleaned up the bird mess. We then used one large piece of bird net (almost invisible), anchors and cable to permanently seal off the entire face of the building from pigeons without compromising the buildings aesthetics.
Pigeons love to make Vancouver balconies their homes… and what a mess they make in the process. Westside Pest Control technicians clean the mess and installed permanent bird net at this Westend Condo to keep them out for good.  On a clear day, the bird net is barley visible!
Westside Pest Control's technicians enclosed a store front awning with bird netting. No more pigeon mess and a very happy customer.
Pigeons can make an incredible mess on the outside of a building if they can perch on the exterior ledges. Bird spike is an effective, permanent method to keep pigeons off the outside perimeter of a structure for good.
Seagulls
Westside Pest Control LTD also specializes in seagull control. Seagulls can become very aggressive towards people during their nesting stage. Roof top patios near the ocean are a favourite seagull nesting site.
Sparrows
Most sparrows are non-native and for this reason not protected in B.C. and can be removed from homes and businesses.
See what we have done lately
Westside Pest Control installs custom Bird Net in a large parkade. Zippers included for access to electrical, plumbing and HVAC.
Westside Pest Control does pigeon and other bird clean ups!
Before and After Photos of a successful pigeon trapping and pigeon clean-up on a Vancouver penthouse rooftop
Another very happy client! After sealing off the balcony with bird netting so the birds would not return, Westside Pest Control's technician cleaned every inch and corner of the balcony so it could be enjoyed again!
Bird prevention: the art of balancing aesthetics and practicality!
Westside Pest Control recently prevented birds from nesting and roosting in an overhanging canopy at a Vancouver law office. A combination of bird spike and bird net was installed. The net is nearly transparent against the canopy (see pictures below). Bird prevention was achieved at this site without affecting window use or the building's aesthetics.
In addition to bird control and prevention, we also specialize in complete clean-ups of the affected area.
Our bird prevention gallery
Bird netting and spike used to prevent Pigeons roosting above a loading bay at a warehouse in East Vancouver:
Need help with bird control in Vancouver?
After a few simple questions, free estimates can be given over the phone for bird control in Vancouver and the rest of the Lower Mainland. Call us now at 604-559-9060 or contact Westside Pest Control by email.