Previously in the Ultimate Guide To Fire Ant Control we learned all about fire ants, their nasty sting, and about the most common species here in BC, the European Fire Ant. Now let's look at the treatment methods used to stop the spread of these ants.
Warning: Fire Ants can be harmful.. and are extremely difficult to control! Proper care is often needed when treating your yard for fire ants. Best to seek expert advice first, or call the ant control professionals to take care of them for you.
Treating European Fire Ants
Let's recap and remind you that in British Columbia, the main Fire Ant that exists here is the European Fire Ant. These ants thrive in warm, humid conditions, which is why many areas become infested with fire ants from spring onwards.
Unfortunately, in Metro Vancouver and the surrounding area, European Fire Ants (Myrmica Rubra) are the real challenge and typically increase in numbers when faced with most home remedies.
In a new report commissioned by the B.C. Ministry of Environment's Ecosystems Branch, a team of ecologists, environmental economists and city planners speculates that, if left unchecked, the fire ant (Myrmica rubra) invasion of the Lower Mainland could render gardens, schoolyards and golf courses unusable if the ants were "to eventually occupy all areas where they could physically survive and thrive."
FACT:
Although there are many baits and treatment solutions available on the market, the only method currently recognized by researchers and experienced pest control companies is a domestic grade permethrin insecticide application involving tedious digging, treating, and replacing soil.
Fire Ant Treatments
What you will need: Two buckets, shovel, large garden fork, 0.25% permethrin, respirator, disposable gloves, eye protection, injection rods for pavement treatments
Why 0.25% permethrin?
Traditionally pest control companies use 0.5% solutions. 0.25% is strong enough to kill the ants but not so strong that foraging ants will not return to the nest site and in turn die from the residual left in the treated soil

Permethrin is derived from the Crysthanamum flower and has very low toxicity to plants and mammals.
The solution breaks down on the surface in a day or so, remains active below ground for longer, minimizing risk to pollinators and wildlife. 
How and where to apply the solution?
1. Dig hole
Remove flag and dig 1-2 feet deep and 2 feet across. 
2. Transfer Soil
Immediately transfer soil into large bucket, container or wheel-barrow
Watch for lateral tunnelling as you dig (Fire Ants will swarm after disturbing the nest)
3. Treat the wall of the hole
Treat wall of dug hole and into noted surrounding entrance tunnels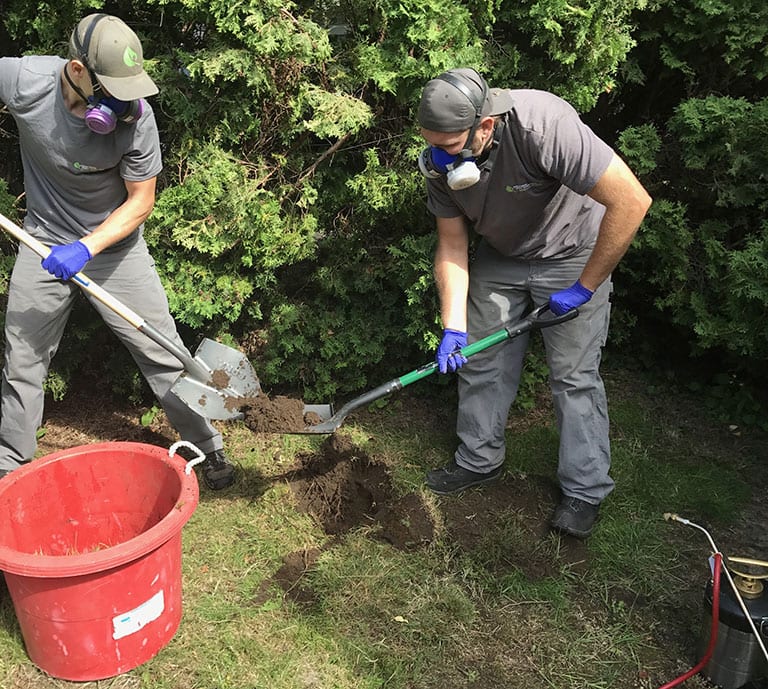 4. Disrupt the soil
Disturb the area with garden fork and pound the ground with shovel
5. Mix and treat in bucket
Mix colony soil in buckets with a solution of 0.25% permethrin in a bucket using a shovel and garden fork to ensure all soil is saturated with insecticide
Reminder: Stronger mixture is not better!
6. Return soil to ground
Return treated soil to the hole in the ground
Even the queens will escape they are coming back into contaminated area to rebuild the nest ~ necessary to treat the soil
*Tips*

Always better to focus on big nests first, next visit remaining smaller ones
Fire Ants usually cannot be eradicated in a single visit/treatment. You will  need to treat the infected area multiple times and monitor that mound regularly
It's recommended to tackle fire ants as 2 or more people   
–> Next up, we learn from the experts as we share our best fire ant prevention tips
Westside Pest Control is the no1. Ant Control company in the lower mainland. In addition to fire ants, we also treat for Carpenter Ants and Pavement Ants. If there is a need for professional help contact one of the team today on 604-559-9060. After a few simple questions, free estimates can be given over the phone for fire ant removal.