Burnaby Pest Control Service
High atop Burnaby Mountain, Simon Fraser University is the perfect spot to view the mountain's namesake community. Third largest by population in Metro Vancouver, Burnaby is home to not only one of the premier universities in British Columbia, but also a host of unique neighbourhoods that make the community – of the oldest communities in the Lower Mainland – rich in diversity, culture, industry, commerce and recreation.
More than 225,000 people call Burnaby home; unfortunately, they're not the only ones. As any local can attest, Burnaby is also home to plenty of pests, including insects, rodents, birds and larger critters. Dealing with them is where the leading Burnaby pest control experts, Westside Pest Control, come in.
Since 2009, Mike Londry and his team of professional pest control specialists have been dealing with unwanted houseguests of the non-human variety, ensuring the Burnaby residents can sleep soundly in their beds at night knowing that their homes are safe and secure from pests.
That's important because the people of Burnaby have more important things to do than worry pests invading their homes, or making the neighbourhood less than pleasant.
After all, in a place like Burnaby, where there is so much to do, such as Metrotown shopping, boating on Burrard Inlet, taking in sporting events at Swangard Stadium, visiting the awesome Burnaby Museum, or strolling through Deer Lake and Central Parks, who wants to be dealing with insect, rodent and mammal pests?
Full Service Pest Control
Well, the premier company for pest control in Burnaby – Westside Pest Control – does, and they're more than ready to help when those critters come a calling at your residence or business. We specialize in a wide variety of area pests, including:
Wasp and Hornet Control
Nobody really wants yellow jacket wasps and bald-faced hornets ruining their picnics and barbecues, and both of these creatures can be a real pain… especially if they start stinging. Neither is really welcome anywhere, but they're not always easy to get rid of. Westside Pest Control can handle your flying insect problems, however, and we'll show you why our company is considered the best pest control company in Greater Vancouver. Oh, and if you have a nest of bees nest you want removed, give us a call and we'll recommend some expert beekeepers who can do the job and save the bees. After all, bees are an important part of our environment, and we don't want to be killing them if we don't have to.
Rodent Control
Predictably, the creatures people most dislike to have invade their homes and business – Norway rats, mice and roof rats – are the pests we get the most calls about for Burnaby rat control. Nobody wants them crawling through the attic or in the walls doing their thing, which is why Burnaby residents call the exterminator so quickly when these guys move in. Westside Pest Control will be there in a hurry to get rid of your rodent problem promptly and effectively because we have the right products, and because we know where to find the pests fast.
Bird Control
Pigeons, seagulls and sparrows, in particular, can cause a major mess on your property. Burnaby is close enough to the ocean that it has more than its share of all three. Think bird poop everywhere, but usually right where you want to enjoy your sundeck, or right above the door. We know you want them gone as soon as possible, and as Burnaby's premier bird control experts, we can help. We use a variety of methods, but our emphasis is on exclusion, so the birds can't roost or nest near your building.
Ant Control
Especially carpenter ants, odorous ants and sidewalk ants. These pests are hard to get rid of unless you know what you're doing, so a good pest control expert is your best bet for dealing with the various types of ants native to Burnaby. This is particularly true if you have carpenter ants chewing their way through your woodwork. The reason it's not easy to get rid of ants on your own is because you're usually dealing with tens of thousands of individuals living in multiple nests, and most homeowners won't have access to the kinds of commercial-grade products available to professionals like Westside Pest Control, which has both the knowledge and products necessary to combat ants for its Burnaby clients.
Squirrel Removal
Yes, squirrels are cute, and while most people want them gone because of their destructive behaviours, they don't want to see them hurt. That's why Westside Pest Control uses live trapping and relocation methods for squirrels if necessary, but we find that getting them out of the building and then closing up their access points is usually the most effective method for squirrel control. Squirrel control is mostly about closing up the access points, so we'll do a complete inspection of your home and plug those holes for you.
Termite Control
These creatures are the most destructive of the insects we tackle, and anyone who owns a wood-framed building is guaranteed to cringe at the mention of termites. If termites have invaded your home it's a cinch you want them gone as soon as possible. Westside Pest Control is the best and fastest solution for these extremely destructive pests.
Raccoon Removal
These little bandits might look cute and cuddly, but homeowners should be very wary about dealing with raccoons on their own; it's a potentially dangerous situation that is best left in the hands of people who know what their doing. Let the raccoon control experts at Westside Pest Control take care of the problem quickly and safely. The damage raccoons can do not only to your home, but also your yard, is truly amazing, so give these creatures the respect they deserve and get our professionals out to take care of your raccoon problem.
Skunk Removal
As with raccoons, we use live trapping and relocation methods for skunks. You don't want to be tackling skunks on your own for obvious reasons, so let a professional skunk control expert take care of the problem humanely and quickly. Oh, and if you do happen to get sprayed, visit our web page about skunks for the antidote.
Pest Clean Ups
The reality of animal pests is that they aren't usually detected until they've caused quite a lot of damage and/or left behind a significant mess to clean up by the time the pest problem has been eliminated. Therefore, clean up is almost always an issue, but you don't have to worry about the clean up as Westside Pest control is more than happy to do the work for you.
Pest Entry Point Exclusion
There's not much point in getting rid of the pest if you're just going to let them back in. Part of every pest control job we do is ensuring potential entry points are blocked so you don't have to worry as much that they'll be back.
The bottom line is Westside Pest Control services are effective anywhere you have unwanted rodents, mammals or insects making your life miserable. Businesses – retail, commercial of industrial locations – as well as houses, townhouses, apartment blocks and condos benefit from our expertise. We go where the pests go because that's what's expected from the top Burnaby pest control company.
Top Services for Residential and Commercial Properties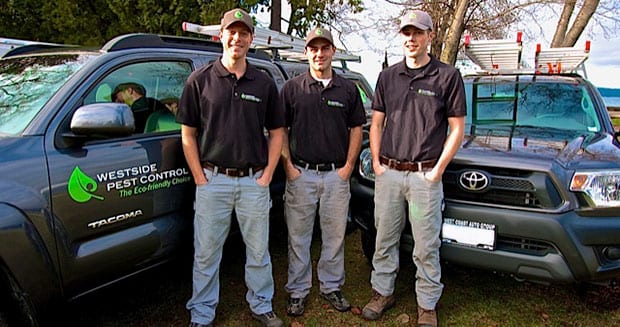 At Westside Pest Control we know that to be the best means our pest control methods must be the most effective possible for each and every situation, and they are, but we also realize that our customers expect us to act as humanely as possible when removing pests, and to be as environmentally sensitive as we can.
That's why all of our technicians are certified and thoroughly trained in the techniques and products we utilize, and why, perhaps just as importantly, they're also licensed to use those products. It's an important consideration when choosing a pest control company if you want to ensure the company is acting responsibly. It should also be pointed out that we use eco-friendly, Earth-friendly products whenever possible.
If you want to be the best pest control company in Burnaby, however, it's not enough to use the top-grade products and techniques. It's also important to offer exceptional service, which is why our people are also extremely professional, and why our level of customer service is second to none. As members of the Canadian Pest Management Association and Pest Management Association of B.C. we follow their codes of ethics to set the benchmark for service, and then endeavour to go one step further at all times.
What all of this means is that when it comes to finding the best pest control company in Burnaby there's no better company out there than Westside Pest Control. We firmly believe we are your best bet when it comes to safe, efficient results.
Owner Mike Londry takes pest control very seriously, and so does the rest of his team because they know how destructive and annoying animal pests can be. They're proud to offer this kind of service to Burnaby homeowners and business people alike, and those folks in turn trust Westside Pest Control because we not only know what we're doing, but because we take pride in our work.
Burnaby is an amazing place to live and work, but that doesn't mean it's free from unwanted animal pests. At Westside Pest Control we understand that people don't really want to be sharing their homes and businesses with Mother Nature's little friends, especially the ones that are on the destructive side. Westside Pest Control knows how important your home or business is to you, and how expensive it is to purchase real estate in Burnaby, so we'll do everything we can to protect your home from unwanted visitors of the animal variety, and we'll do it as quickly and efficiently as possible.
If you find yourself facing a pest control problem in Burnaby, give Westside Pest Control a call and get the experts to do battle for you! Save yourself time, money and, perhaps most importantly, aggravation by making us your first call. That way you'll have the top pest control company in the Burnaby area get started on removing those unwanted critters from your home or business right away.
Wasps, ants, birds, rodents, wildlife…Westside Pest Control LTD has a solution to your pest problem! Call the Burnaby pest control experts today: 604-565-9060.
Live in the North Shore? See our North Shore pest control page.
Our Location
2077 Rosser Avenue, Apt. 3103
Burnaby, BC V5C 0G6
(604) 565-9060